It's Thursday, you don't have anything better to do, and if you're a fan of mockumentary comedies, you will read how OKC's starting five from the 2017-18 season translates to The Office. 
Jim Halpert, also known as Steven Adams, is an integral piece to the story both on and off the court. As anything in The Office runs, he has a major hand in the success of Dunder Mifflin as well as the OKC Thunder. Also, he is a fan favorite, nearly everybody loves him and his reactions, and I just really want to be his friend. 
Dwight K. Schrute, or Andre Roberson, does a lot of the work that goes unnoticed in Scranton, PA as well as OKC, OK. Always doing the dirty work, completely willing to sacrifice his body and pride for the greater good of Dunder Mifflin (OKC)-- Dre has a contingency of fans that love him, people that hate him on radio shows, and people that just look at box scores on paper (it's glossy stock).
Ryan Howard, or, Carmelo Anthony...... not that popular. Just as Ryan started working for Dunder Mifflin as a temp, the idea of Melo being in OKC was cool. But, just as Ryan became the "fire guy" for letting his cheesy pita cook too long in the toaster oven that caused Dwight (Dre) to run and clean up his mess, people soon turned on Melo. Many times during the mockumentary, Ryan Howard was largely absent for much of the plot-- the same goes for Anthony. 
Pamela Beesly, the seemingly wonderful artist and front desk manager at Dunder Mifflin, also goes by the name of Paul George. PG developed a minor chemistry with Steven Adams, which might take more seasons for it to truly develop into love..... er.... real chemistry. Just like Pam, when PG was on display as a scorer, it was like watching an artist-- however, OKC fans are just hoping this Pam Beesly stays with her current job instead of moving on to go to an art school far away.
Michael Scott as Russell Westbrook is too easy. They will make you laugh, cry, excited, annoyed, and any other range of emotions. The man that controls the Scranton branch of Dunder Mifflin, and the entire flow of the workers can ensure the company doesn't downsize with sometimes unorthodox methods, but it works... for now. Regardless, he's the main guy, and you absolutely love him (I do), or you hate him (I hate you). 
Toby Flenderson is Kyle Singler: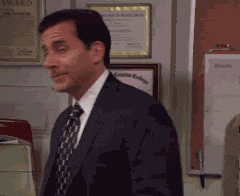 Please reload